Blogging can be a rewarding and enjoyable experience, but it can also be intimidating to those just starting. After all, the internet is full of experienced bloggers and there's lots of competition out there! If you're looking to start a blog on WordPress in 2023, this beginner's guide will help set you up for success. We'll go over the basics of setting up your WordPress account, choosing a domain name, installing themes, designing your blog, and more. With these steps under your belt, you'll be ready to get blogging with confidence. Read on to learn more!
What is WordPress?
In WordPress, you can create a website or blog from scratch or improve an existing website using a content management system (CMS). Millions of people around the world use it, including large organizations like The Guardian, Forbes, and The New York Times, as a free and open-source platform.
WordPress is easy to use and flexible enough to handle almost any kind of website. Whether you want to create a simple blog or a complex corporate website, WordPress can help you get the job done.

Best of all, because WordPress is open-source software released under the GPL, anyone can download and use it for free.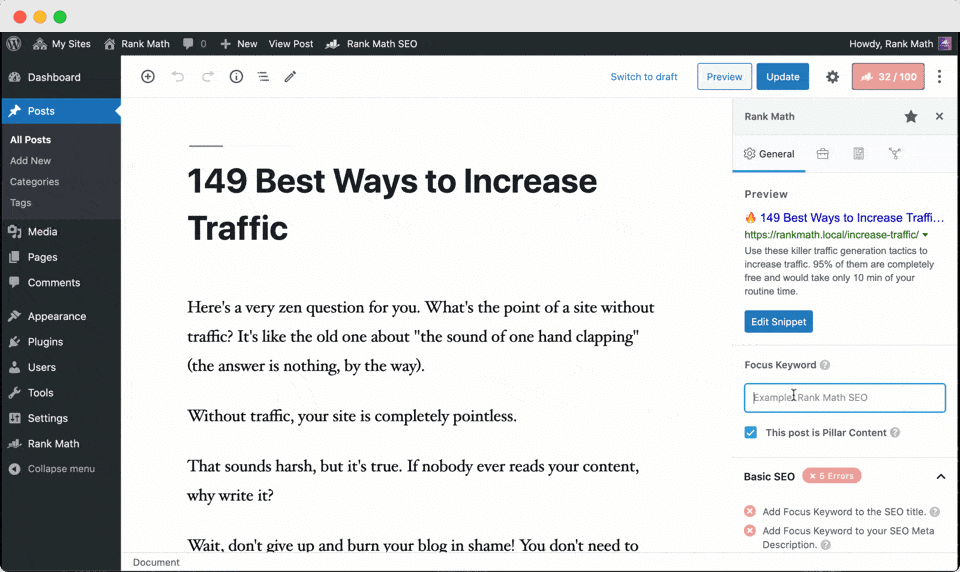 Why Should You Start a WordPress Blog?
If you're thinking about starting a WordPress blog, there are a few things you should consider first. You may start a blog for free using WordPress, a well-liked blogging site. You can choose from a variety of themes and plugins to customize your blog and make it your own.

Before you start a WordPress blog, you should decide what you want to write about. Do you have a passion for fashion, food, or travel? Or maybe you want to start a personal blog to share your thoughts and experiences with others. Once you've chosen a topic, come up with a catchy acronym for your blog and start writing!

Creating content for your WordPress blog is easy with the built-in WYSIWYG editor. You can add images, videos, and links to your posts to make them more engaging. Plus, there are tons of free plugins and themes available that can help you customize your site.

Ready to start blogging? Follow these simple steps to set up your WordPress blog in no time:

1. Register for an account at wordpress.com.
2. Set a unique username and password for your account
3. Select a theme for your blog from the options provided.

4. Customize the look of your site by adding plugins or changing the theme's settings.
5. Start writing posts and publishing them on your blog!
How to Choose a Domain Name and Hosting for Your WordPress Blog
How to Choose a Domain Name and Hosting for Your WordPress Blog
The first step in starting a WordPress blog is choosing a domain name and hosting. Although it can be a challenging process, we can help you.

First, you'll need to choose a domain name. This is the address of your blog (e.g. www.example.com). It's important to choose a name that is easy to remember and spell, as well as something that reflects the content of your blog.

After choosing a domain name, you must find a hosting provider. There are many different providers out there, so it's important to do your research and find one that offers the features you need at a price you can afford.

Once you've selected a domain name and hosting provider, you're ready to install WordPress and start blogging!
How to Install WordPress
1. How to Install WordPress

Installing WordPress is a very simple process. You can either use the built-in installer or you can manually install WordPress.

If you want to use the built-in installer, all you need to do is log into your hosting account and click on the "Install WordPress" button. This will start the installation process and you will be prompted to enter your database details. Once the installation is complete, you can log in to your WordPress blog using the username and password that you created during the installation process.

If you want to install WordPress manually, you will need to download the WordPress files from https://wordpress.org/download/. Once you have downloaded the ZIP file, you will need to extract it and then upload it to your web server via FTP. The next step is to create a database for WordPress when it has been uploaded to your server. You can do this through your hosting control panel or via phpMyAdmin if your host provides it. Once your database is set up, edit the wp-config.php file with your database details and then visit http://yoursite.com/wp-admin/install.php to complete the installation process.
How to Configure Your WordPress Settings
Assuming you have already installed WordPress to your domain, the next thing you need to do is configure your WordPress settings. This includes things like setting your site title, choosing a theme, adding plugins, and more.

To access your WordPress settings, simply log in to your WordPress admin dashboard and navigate to the "Settings" section. From here, you can begin configuring all of your site's settings.

Some of the most important settings to configure include:

-Your site's title and tagline: These are the first things visitors will see when they land on your site, so make sure they accurately reflect what your site is about.
-Your permalink structure: This determines how URLs are structured on your site. For example, you can choose to have URLs that include post names, or just numbers.
-Reading Settings: Here you can choose how many posts to display on your home page, whether or not to display excerpts instead of full posts and more.
-Discussion Settings: These settings control things like comments and trackbacks. For example, you can choose whether or not visitors must be registered and logged in to leave comments.
-Media Settings: These settings let you control what types of media (images, videos, etc.) can be uploaded to your site and where they should be stored.

These are just a few of the most important WordPress settings – there are many more that you can configure as well.
How to Choose a WordPress Theme
When you are choosing a WordPress theme, you should consider the following:
1. The overall look and feel of the theme. You want a theme that is aesthetically pleasing and easy to navigate.
2. The functionality of the theme. Make sure the theme you choose has all the features you need and works well with any plugins you might want to use.
3. The code of the theme. A good quality theme will have clean, well-organized code. This makes it easier for search engines to index your site and can help improve your site's load time.
4. The support offered by the theme developer. If you have any questions or run into any problems, you'll want to be able to get help from the developer quickly and easily.
5. Whether or not the theme is responsive. A responsive theme will look good on all devices, from mobile phones to desktop computers.
How to Create Your First Blog Post
Assuming you've already set up your WordPress blog (if not, see our guide on how to start a WordPress blog), it's time to start creating content!

Writing your first blog post can be a daunting task, but there are a few simple steps you can follow to make the process easier.

1. Start by brainstorming ideas for your post. What do you want to write about? What would be helpful or interesting for your readers?

2. Once you have an idea, create an outline of what you want to include in your post. This will help you organize your thoughts and keep your writing on track.

3. Now it's time to start writing! Write a catchy headline that will grab readers' attention and entice them to read further. Then dive into the body of your post, covering the topics you outlined in your introduction.

4. Be sure to proofread your work before publishing it! A few quick spell-checks can make a big difference in how professional and polished your blog looks.

5. Finally, hit "Publish" and share your amazing new blog post with the world!
How to Promote Your WordPress Blog
Assuming you've already set up your WordPress blog, there are a few key ways you can start promoting it to drive traffic and build an audience.

1. Share your content on social media. This is a great way to get initial exposure for your blog and drive traffic back to your site. Be sure to share each new post on social media sites like Facebook, Twitter, and LinkedIn.

2. Reach out to other bloggers in your niche. If you're writing about a specific topic or industry, reach out to other bloggers who write about similar things. They may be willing to share your content with their audience if they think it's relevant and valuable.

3. Guest posts on other blogs. This is a great way to get exposure for your blog while also building relationships with other bloggers in your industry. When you guest post, be sure to include a link back to your blog so readers can check out more of your content.

4. Leverage social media ads. Social media platforms like Facebook and Twitter offer paid advertising options that can be very effective in promoting your WordPress blog. These ads allow you to target specific demographics and interests, making them highly targeted and likely to result in clicks through to your site.

5. Participate in online communities related to your niche. There are likely numerous online communities related to the topic or industry of your blog. Spend some time participating in these communities and sharing links to relevant posts from your blog when appropriate.